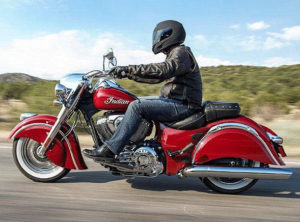 Motorcyclists in Nashville, Tennessee who are involved in an accident often wonder whether they are barred from recovering compensation for damages and injuries because they were not wearing a motorcycle helmet at the time of the accident. While failure to wear a helmet at the time of the accident is not an automatic bar to recovering compensation, it is a factor that can significantly impact your ability to successfully pursue damages in court. Because of this, having the experienced Nashville, Tennessee motorcycle accident lawyers of Keith Williams Law Group by your side in court can help ensure that you receive top dollar for your motorcycle-related injuries.
The use of helmets has been a hot topic for motorcyclists around the nation for decades and controversial mandatory helmet laws have been enacted in 19 states, including Tennessee. In Tennessee, both the motorcycle operator and any passengers are required to wear a motorcycle helmet that meets federal safety standards, regardless of their age or level of experience. Furthermore, the use of a helmet has been proven to prevent or lessen injuries to the motorcyclists in the event of an accident. According to the U.S. Department of Transportation, the use of a motorcycle helmet can decrease the risk of death or serious injury in a motorcycle accident by 37%.
In addition to being required by law and greatly reducing the severity of injury in the event of a crash, the use of a motorcycle helmet, or the lack thereof, can significantly impact your ability to recover compensation for your injuries in court. Tennessee is a comparative negligence state. In the context of a motorcycle accident, the negligence of the motorcyclist will be compared to the negligence of the motorist. If the court determines that your negligence was 51% or higher, no compensation will be given.
Whether or not you were wearing a helmet at the time of the accident is a factor that will be weighed by the court when calculating your negligence. Thus, because it is possible that your failure to wear a helmet increased the severity of your injuries, not wearing a helmet may be viewed by the court as a significant enough amount of negligence to bar recovery. Without an experienced Tennessee motorcycle accident lawyer protecting your rights in court, you may walk away with nothing.
However, failure to wear a helmet does not automatically prevent a motorcyclist from recovering compensation and our legal team is highly trained to investigate and identify the ways in which the motorist's negligence was the cause of the accident. Certain actions by the motorist or other party responsible for the crash may be so egregious as to outweigh the negligence attributed to you for not wearing a helmet. Common examples include driving while intoxicated, failure to stop at a red light, or distracted driving.
Motorcyclists who are injured in an accident while not wearing a helmet benefit greatly from having an experienced motorcycle accident attorney by their side in court. The dedicated legal team at Keith Williams Law Group will help ensure that you receive the compensation you deserve for your personal injury case.
Our no win-no fee guarantee, decades of experience, and over $50 million recovered in personal injury lawsuits makes us the best motorcycle accident attorneys in Nashville, Tennessee. Contact us for a free consultation today.