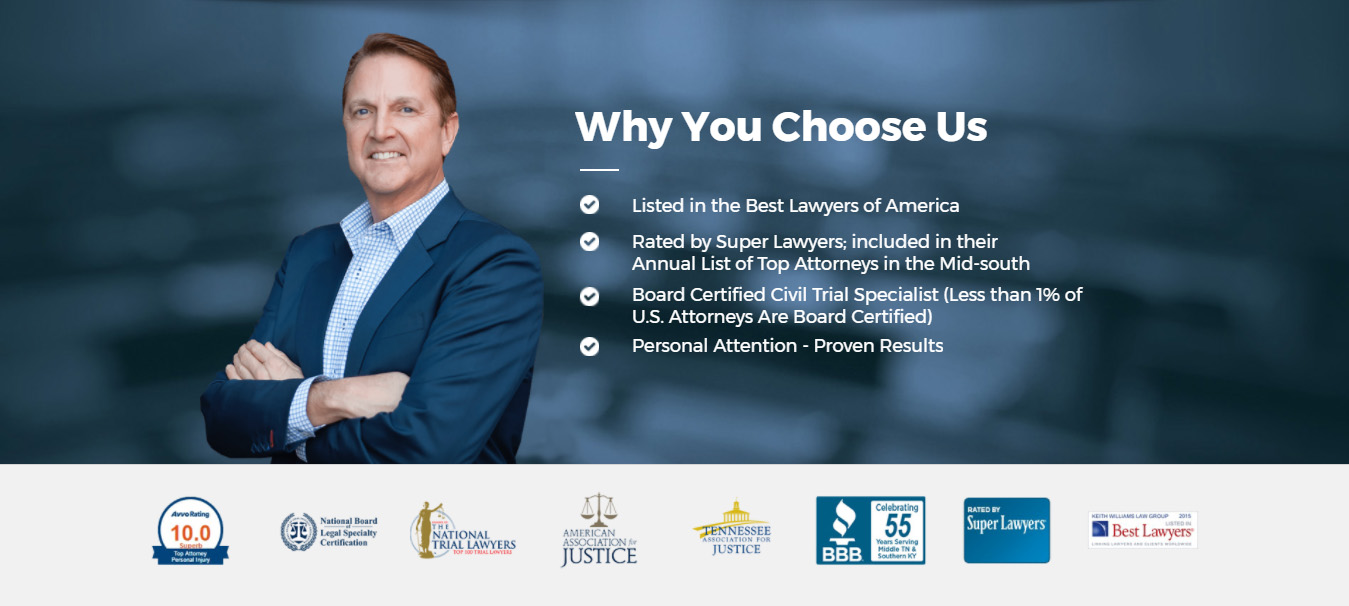 Mt. Juliet Personal Injury Lawyer
Have you been involved in an accident? Contact the specialists in personal injury cases! 
Our no obligation consultations are absolutely free. Let us review your case risk-free. We only get paid if your case wins!
Keith Williams Law Group is one of the most successful personal injury law firms in the state of Tennessee. We have extensive experience working with car accident cases, motorcycle accidents, aviation accidents, personal injury, medical malpractice and more.
Don't take a chance on your case – use an attorney that specializes in circumstances like yours. We have a team of experts that are at your disposal. We know how the insurance companies operate and what methods they will use to try to settle for less than you deserve.
Our law firm has won over $50 million in personal injury settlements, representing some of the highest payouts in the state of Tennessee. Put that experience to work for you!
What kind of compensation can I receive in personal injury cases?
Many clients are surprised at what can be covered in your settlement. Most know the standard medical bills, property damage and anything directly related to the accident can be recovered. However, you are also entitled to any loss of income that occurred because of the accident, future loss of income if you are permanently disabled, emotional distress, relationship loss that may impact you. Bottom line is that you deserve to be fully compensated and we know how to ensure that happens.
Keith Williams Law Group specializes in the following types of cases:
Car Accidents
Motorcycle Accidents
Truck Broker Liability
Truck Accidents
Child Injury
Business Litigation
Disability Benefits
Medical Malpractice
Worker's Compensation
Defective Products
Aviation Accidents
Highway Work Zone Accidents
Choose the Best Mt. Juliet Personal Injury Lawyer for Your Case 
When choosing an attorney for a personal injury case you want to do your research on any attorney you are considering and choose only the best. One of the first things you want to do is find out how many cases they have won in the past. Beyond this find out how many years they have been in practice, how much money overall they have won for their clients, how many cases they have lost and why and talk to their former clients, if possible. Would these clients still recommend them? Were they treated with respect and kindness?
We're proud to say that many of our former clients still consider us friends!
Contact Mt. Juliet's Top Personal Injury Law Group Today!
If you need an attorney to help you get the best settlement for a personal injury, contact Keith Williams Law Group. Our consultations are free and you're under no obligation at all. We only charge our clients when we win their cases, so there is no money out of your pocket for our services.
We make the process as simple as possible for you. Our team will walk you through what we need from you as far as documentation, medical records, bills, and property damage reports. Each case is slightly different, but we have a simple process for all types of cases.
Mt Juliet is located 23 miles from our Lebanon office, nestled in the largest and fastest growing city in Wilson County, TN, is easily accessed from Interstate 40 and U.S. Route 70. Fondly known to locals as "The City Between the Lakes," our offices sit just 17 miles east of downtown Nashville. Call us today at 615-313-3999 to schedule your free consultation.