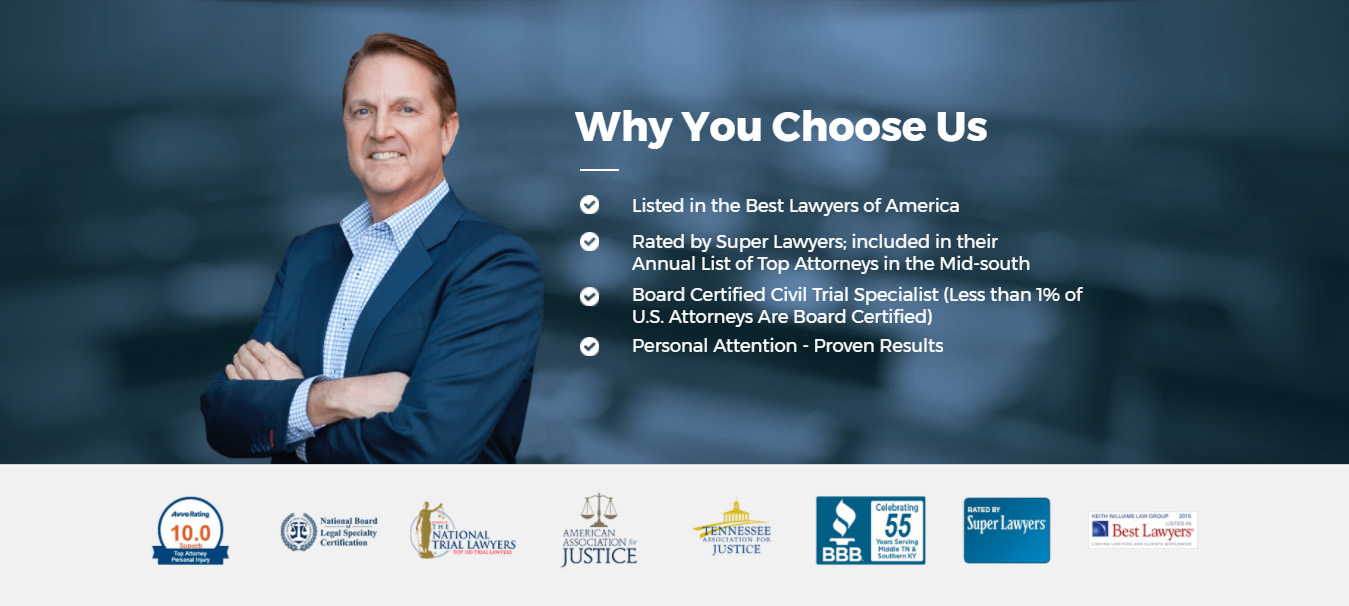 Spring Hill Personal Injury Lawyer
Did you have an accident? Are you worried about medical bills, repair costs, loss of wages, inability to work or support your family, or pain and emotional distress?
Call our experienced legal team right away. We can help!
Keith Williams Law Group has experienced attorneys who are well-versed in personal injury law. We have Board Certified Civil Trial Specialists, are highly-rated by Super Lawyers and were featured among the Best Lawyers in America!
We are knowledgeable about personal injury law, have extensive legal expertise, and provide free consultations without any risk. We only accept payment if you get a settlement or win your case. That's right, we only charge our clients when they win their lawsuits. So, you have no out-of-the-pocket expenses to worry about.
Keller Williams Law Group has more than 20 years of professional experience in handling personal injury cases.  Whether you were involved in workplace, motorcycle, car, boating or even airplane accidents, we can help. Our Spring Hill personal injury lawyers have extensive experience handling these types of cases and we want to put our legal expertise to work for you. So, whether you need legal skills, someone to oversee negotiations with insurance companies, analysis your settlement agreement, or simply need a professional to steer you through the complicated legal process, we've got you covered.
Our personal injury lawyers can handle everything – including gathering of evidence from witnesses, completing and explaining legal paperwork, compiling other relevant evidence, and explaining legal jargon in an easily comprehensible manner.
Our Spring Hill personal injury lawyers are veterans in the field and are there to guide you through the entire process. We are one of the most esteemed top personal injury law firms in Tennessee and have won personal injury settlements worth over $50 million. So, you can bank on our credibility and experience!
Areas of Personal Injury:  
The personal injury areas of practice are as follows:
Accident Involving a Car
Accident Involving a Motorcycle
Liability of Truck Broker
Accident Involving a Truck
Injury to a Child or Children
Business Litigation
Benefits Resulting from Disability
Malpractice in Medical Treatment
Compensation to Worker(s)
Products that are Defective
Accidents Involving Aviation
Accidents in the Highway Work Zone
Our Top Compensation Settlements
Keith Williams Law Group has some of the largest settlements to its credit. Some of the cases won are as follows:
$14 Million Motorcycle Accident Verdict
$8 Million Truck Accident Settlement
$8.3 Million Aviation Crash Settlement
$6.2 Million Car Accident Verdict
Winning a legal case takes expertise, experience, hard work, persistence, and dedication, and our personal injury lawyers can make a significant difference by representing you. But, don't just take our word for it – call us today for a free non-obligatory consultation. We have offices in both Nashville and Lebanon. We also serve clients at various places in Tennessee such as Mt Juliet, Carthage, Watertown, Gordonsville, and Spring Hill.
Contact the Best Personal Injury Lawyer in Spring Hill Today!