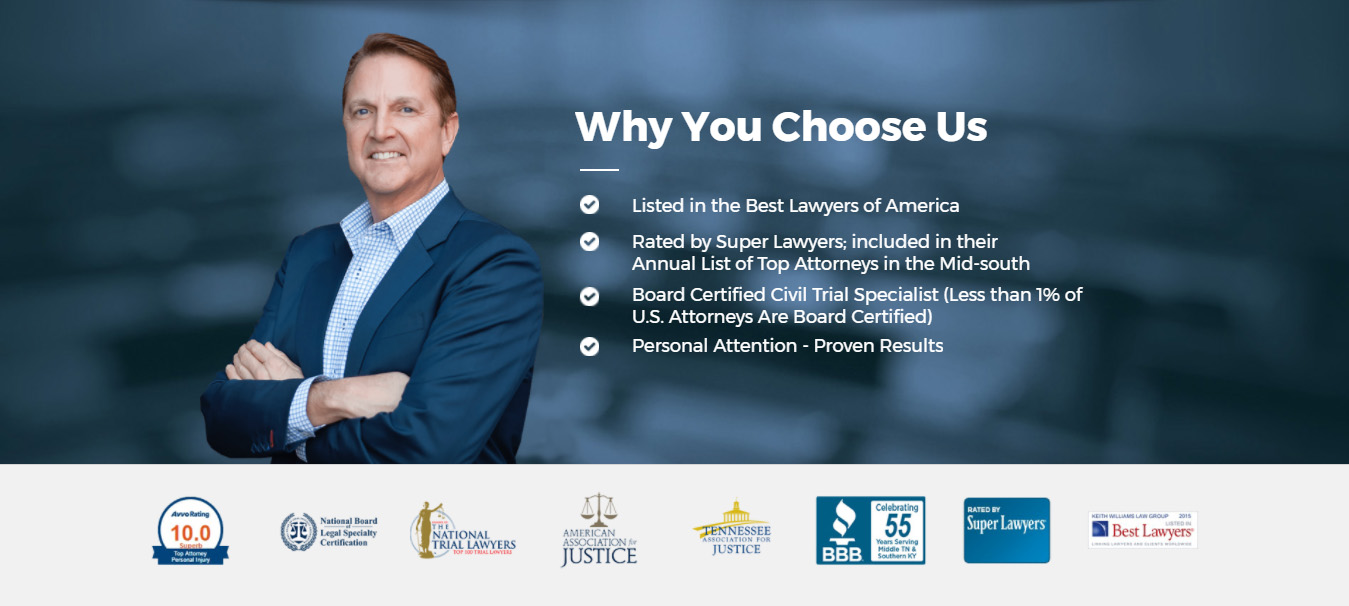 Lebanon Personal Injury Lawyer
Were you injured in an accident? We can help you!
Keith Williams Law Group offers free, no-risk consultations to review your case. We only get paid if we win a settlement for you! There are no fees involved otherwise.
Our group has over twenty years of experience working with lawsuits that involve personal injury, whether it's car accidents, motorcycle accidents, airplane or boating accidents, or personal injury in a place of business, we have dealt with your type of case many times before.
Our experience gives us an edge over other lawyers in the area. We know what insurance companies try to do in cases like these, we understand what documents, witnesses and evidence that you need to provide to get the best settlement for your case, and we will walk you through each step of the process ensuring that you get the most you can to cover all of your losses.
Keith Williams Law Group is proud to be one of the top personal injury law firms in Tennessee, winning over $50 million in personal injury settlements. Put our experience to work for you!
When you have a personal injury case, you are entitled to receive compensation for all medical bills, any loss of income that occurred, property damage, and emotional distress. Our staff utilizes the top experts in the field to win your case and compensate you for any and all losses.
Personal Injury Areas of Practice Include:
Car Accidents
Motorcycle Accidents
Truck Broker Liability
Truck Accidents
Child Injury
Business Litigation
Disability Benefits
Medical Malpractice
Worker's Compensation
Defective Products
Aviation Accidents
Highway Work Zone Accidents
Choose the Best Lebanon Personal Injury Lawyer for Your Case 
When you are looking for a personal injury lawyer in Lebanon to take your case, you want to ask several questions before making a final choice:
How have their previous cases have gone – have they won most of their cases?
How much experience do they have?
How many years have they practiced this type of law?
What do their past clients have to say about them?
Did their staff provide exceptional service to their client at each step?
Would past clients recommend them to their friends?
When you hire Keith Williams you will get, not only his expertise and experience, but a complete team of experts from the Lebanon area, specializing in medical cases, research, personal injury law, and much more. Our team is here to help you win your case and get you the most generous settlement possible.
Contact The Best Personal Injury Attorney's in Lebanon Tennessee Today
If you or a loved one has been injured in an accident, contact us right away. We will ensure that the insurance company's offer is fair and fight for the most generous compensation you are entitled to receive. There is no cost to you unless we win the case!
Our job at Keith Williams Law Group is to make this time of stress and uncertainty a bit easier for you. We will walk you through the process, step by step, letting you know each step along the way what we will need from you, if anything, and do all we can to make sure you're generously compensated.
Our Lebanon office is situated in the beautiful county seat of Wilson County, Tennessee. It is easy to access from Interstate 40 and Route 231. Just 25 miles east of Nashville, our office location is convenient and easily accessible for all of our clients.
We have offices in both Lebanon and Nashville, and serve clients throughout Mid Tennessee including Mt Juliet, Spring Hill, Carthage, Gordonsville & Watertown.
Keith Williams Law Group
106 S Cumberland Street
Lebanon, TN 37087
Phone: (866) 820-4457
URL of Map | Google +